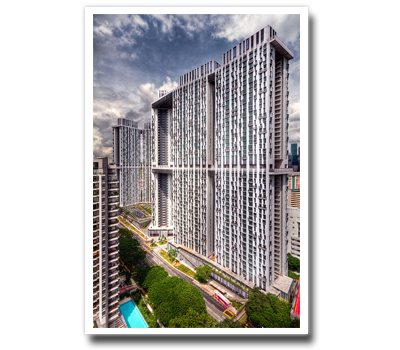 Overview of 26th and 50th Storey Skybridges
There are 2 skybridges at The Pinnacle@Duxton at the 26th and 50th storeys.

26th Storey Skybridge

The 26th storey skybridge is reserved for residents' use, as it serves as a refuge floor*. Facilities on the 26th storey skybridge include a RC centre, jogging track, senior citizen fitness corner, outdoor gym,children playground, community plaza, fitness corner and 2 view decks.
* The 26th storey skybridge (refuge floor) serves to evacuate residents during a fire emergency. As the skybridge links all 7 blocks, residents from an affected block may evacuate through the skybridge (refuge floor)to the unaffected blocks. SCDF fire-fighters can mount search, rescue and fire-fighting operations from this refuge floor, which is open and naturally ventilated, for efficient smoke dispersal.

50th Storey Skybridge

The Pinnacle@Duxton is a public housing project and hence, the 50th storey skybridge is open to both residents and the public.

Residents and the public will be able to enjoy scenic views of the city from the 50th storey skybridge of this public housing project.